Shah Rukh Khan's "Pathaan" aims to cross Rs 700 crore worldwide, box office update.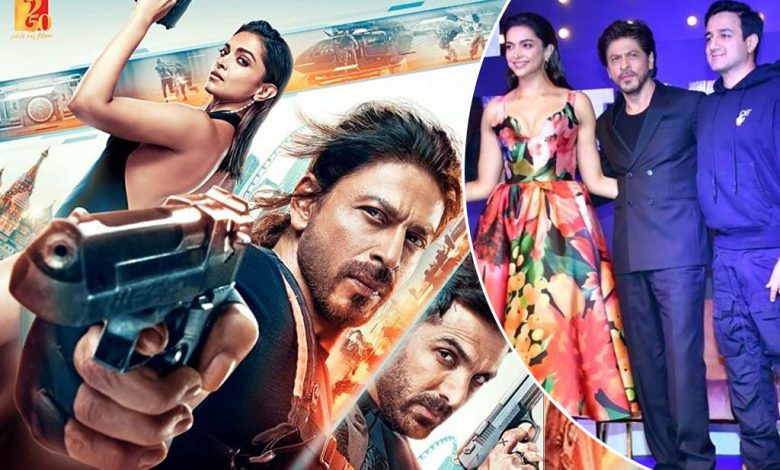 "Pathaan" completes its first week in theaters, breaking records along the way. The film has earned Rs 634 crore globally and reached Rs 330 crore domestically.
Shah Rukh Khan's film "Pathaan" has been making a huge impact at the box office both domestically and globally. The YRF spy thriller, featuring Deepika Padukone and John Abraham, has been a huge hit and has already earned over Rs 600 crore internationally, and is expected to cross the Rs 350 crore mark domestically today.
"Pathaan" had a domestic box office collection of Rs 55 crore on Wednesday, Rs 68 crore on Thursday, Rs 38 crore on Friday, Rs 51.50 crore on Saturday, Rs 58.50 crore on Sunday, Rs 25 crore on Monday, Rs 21 crore on Tuesday, and an estimated Rs 18 crore on Wednesday. The film achieved the distinction of being the fastest Hindi movie to reach the Rs 300 crore club, surpassing previous top earners like "KGF: Chapter 2" and "Baahubali: The Conclusion." With a worldwide gross of over Rs 600 crore in just seven days, "Pathaan" has made a significant impact at the box office.
"Pathaan" has made it into the top five highest-grossing films at the North American box office, crossing the $10 million mark. This is a notable achievement for the film, which is directed by Siddharth Anand.
The team behind "Pathaan" gathered in Mumbai for the film's first press conference after its massive success. Shah Rukh Khan, Deepika Padukone, John Abraham, and director Siddharth Anand were present at the event. Shah Rukh had previously greeted fans from his home, Mannat. Despite the film's success, the team decided not to undertake pre-release promotions.
"Pathaan" marks Shah Rukh Khan's return to the big screen after the underperformance of his previous film "Zero." Despite early challenges and boycott threats from right-wing groups, the film has received widespread praise for Shah Rukh's performance and continues to perform well at the box office.